Happy Hour is a brand new, 13,000 square foot, modern contemporary style villa located on the prestigious Discovery Bay Strip in St. Ann, Jamaica. It is built on over an acre of land with its own private white sand beach and beautiful swimming cove. Discovery Bay Harbor is a calm, safe, clean and absolutely beautiful harbor making it the perfect place to swim, paddleboard and kayak freely whilst enjoying the warm Caribbean Sea. Happy hour is an hour drive from Donald Sangster Airport in Montego Bay and a two-hour drive from Norman Manley Airport in Kingston.
Happy Hour Villa is 7 bedroom and 9-bathroom villa. Each bedroom has its own en-suite bathroom and walk in closet. Six bedrooms are ocean view rooms with spectacular views of the Caribbean Sea, with two rooms featuring private plunge bools attached to their balconies, and one bedroom is a garden view suite with a beautiful view of the exquisite garden filled with different Jamaican flowers and trees.
The villa features 2 master bedrooms, 4 rooms with king-size beds, 1 room with 2 queen beds and 1 room with 3 queen beds. Each bedroom is of the utmost comfort, airconditioned and equipped with flat screen televisions. The house also features a large living room and dining room opening up to a wide veranda facing the sea. Upstairs you can find, massage room with 2 massage beds, a sauna room, a games room with a pool table and a media room with an 82-inch flat screen television.
Outdoors, the villa boasts a long infinity swimming pool, attached with a shallow children's swimming area. Adjoining the irresistible pool, is a large heated jacuzzi right on the edge of the sea. 2 steps down from the veranda is a beautiful manicured lawn that takes you right on to the 150-foot private white sand beach and swimming cove and also leading you out on to the spacious gazebo right on the ocean. The villa also boasts a fully lit tennis court, basketball hoop, pickle ball court and a state of the art fully equipped gym.
Happy Hour is decorated to the finest, most luxurious standards equipped with the newest technology and equipment guaranteeing you the most comfortable stay and enjoyable vacation.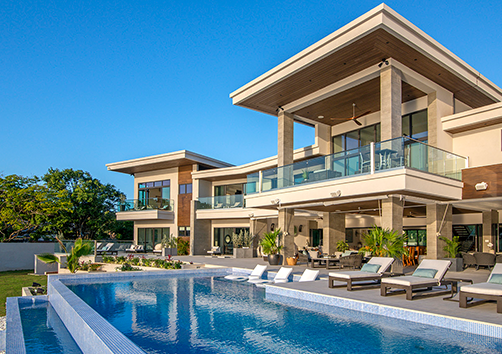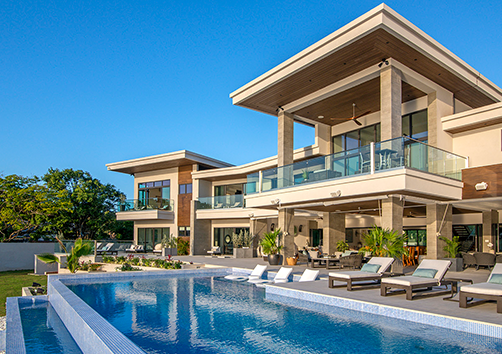 Our highly trained staff will make sure that your stay is relaxing, comfortable and delightful. Their friendly faces will make you feel right at home. They are always happy to respond to any of your requests and help in any way to make your vacation perfect and worry-free.