Happy Hour Villa is a brand new, 13,000 square foot, modern contemporary style villa located on the prestigious Discovery Bay Strip in St. Ann, Jamaica. It is built on over an acre of land with its own private white sand beach and beautiful swimming cove. Discovery Bay Harbor is a calm, safe, clean and absolutely beautiful harbor making it the perfect place to swim, snorkel, paddleboard and kayak freely whilst enjoying the warm Caribbean Sea. Happy Hour Villa is an hour drive from Donald Sangster Airport in Montego Bay and a two-hour drive from Norman Manley Airport in Kingston.
Happy Hour Villa is a 7 bedroom and 9-bathroom villa. Each bedroom has its own en-suite bathroom and walk-in closet. Six bedrooms are ocean front rooms with spectacular views of Discovery Bay Harbor and one bedroom is a garden view suite with a beautiful view of the exquisite gardens.
The villa features 2 master suites with king-size beds, 3 spacious guest rooms with king-size beds, 1 large guest room with 2 queen beds and 1 extra large guest room with 3 queen beds. Each bedroom is luxuriously equipped and has airconditioning and flat screen televisions. The house also features a large, airy living room and dining room opening up to a wide verandah facing the sea. Upstairs you can find a massage room with 2 massage beds, sauna/steam room, games room and a media room with an 82-inch flat screen television.
Outdoors, the villa boasts a large infinity swimming pool with a shallow wading area perfect for young children or for cocktails on the loungers. Adjoining the pool, is a large heated jacuzzi overlooking the blue Caribbean Sea.
Two steps down from the verandah is a beautifully manicured lawn, perfect for croquet, football or volleyball, that takes you to the spectacular 150- foot private white sand beach and swimming cove. Continue past the beach to the panoramic gazebo stretching out into the sea.
The villa also boasts a fully lit tennis court, basketball hoop, pickle ball court and a state of the art gym.
Happy Hour Villa is beautifully decorated in subtle colours and features a blend of magnificent, locally made teak furniture as well other contemporary and luxurious ensembles. It is equipped with the newest technology and equipment, guaranteeing you the most comfortable stay and enjoyable vacation.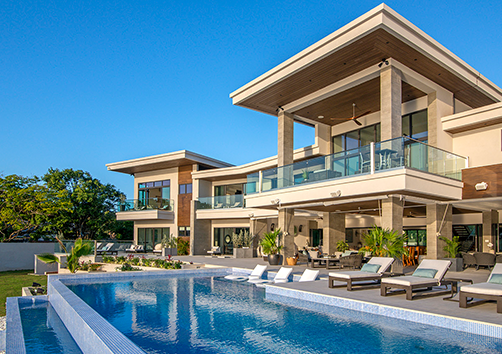 Our highly trained and talented staff will make sure that your stay is relaxing, comfortable and delightful. Their friendly faces will make you feel right at home. They are always happy to respond to any of your requests and help in any way to make your vacation as perfect and as worry-free as possible.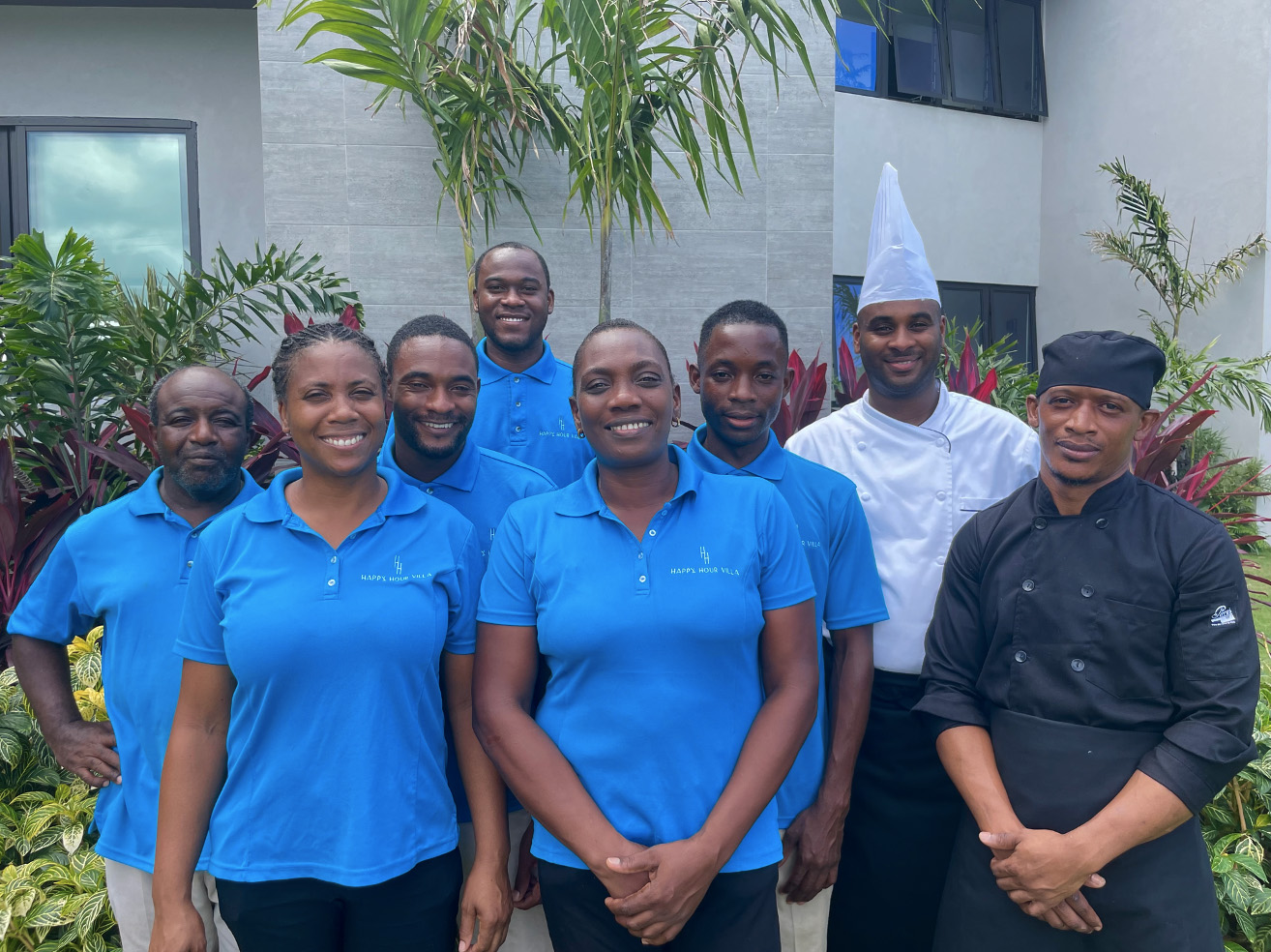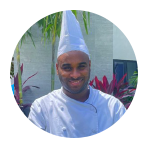 Head Chef
Executive Chef, Chad Clarke, is in charge of preparing the most mouth-watering meals for your stay. Chef Clarke is highly trained and very experienced. You can be sure to love every tasteful dish he prepares. Chef can cook a variety of different meals and cuisines- Jamaican, American, Chinese, Mediterranean, Thai etc.. His flavors and presentation adds a wow to any occasion. Chef will organize all your food and drinks from the supermarket based on your personally selected menu. His friendly personality and charming smile will make you feel right at home.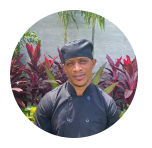 Assistant Chef
Sous Chef, Dean Reid, is a highly talented chef. He helps to prepare the delicious meals for your vacation. Be sure not to miss out on his authentic Jamaican cuisine such as his oxtail and brown stew chicken. He also creates the most delectable desserts, homemade breads and hourderves. His sticky toffee pudding drizzled with caramel will leave you drooling for more!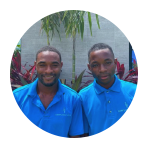 BUTLERS
Dwayne and Everton make sure all your vacation needs are met. They mix the finest drinks from smoothies, frozen lemonades and juices to rum punch, margaritas, daquiris, and martinis. Their cocktail menu is endless and they make sure you are never left without a drink in your hand! They will select the perfect dining spot for you and ensure your table is elegantly decorated. You can count on them to organize your sports for you – basketball, tennis, volleyball, heat the jacuzzi or sauna or if you are feeling like a kayak to feed the Tarpon, snorkel at 'Congatoni Rock' or ride out to the sunset – Dwayne and Everton are your men.

GARDENER/BUTLER
Al is in charge of keeping the villa's tropical landscaping perfectly manicured and ensuring the grounds are kept in impeccable condition. He is also highly skilled at bartending and is never without a smile. Al assists with the serving of meals and mixing of drinks and works with Dwayne and Everton to make sure your vacation is most memorable.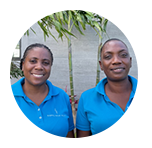 HOUSEKEEPERS
Karan and Shawnie are always pleasant and have a smile on their face. They make sure the villa is kept spotless during your stay. They keep your bedrooms tidy and your clothes washed. In the evening, Karen and Shawnie will have your beds turned down, your air-conditioning turned on, your blinds pulled and your water jugs right next to your bed.

GROUNDSMAN
Chucky works very hard to keep the beach clean and the lawns manicured. He assists the Butlers and Chefs in any way possible. Chucky has special needs and has been based on the property long before Happy Hour!! He is a joy to be around and loves to dance.